Newly Updated Artistic Influences (02/2012)
1.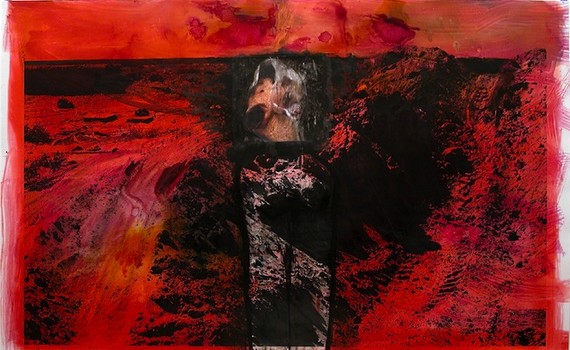 Huma Bhabha
Red Desert
2010
60″x 94″
ink on photographic print
A Pakistani-born American artist Huma Bhabha had been well-known for her assemblage-based sculptures when she turned to two-dimensional work. Beginning with pictures she takes of desolate landscapes and abandoned construction sites in disparate locations, she layers images with inks in saturated colors and sharp gestural figuration, lending the works spontaneity and raw materiality which  recalls the same quality in her sculptures. Her subject matter includes war, colonialism, displacement, and pop culture. She pulls references from different disciplines and re-contextualizes them, "often misassociating them to create a larger, more comprehensive and oddly inclusive visual language" (sic.) (Modern Painters, 55 ). Often bringing together figuration and landscape she "presents a state of decline that seems to be neither past, present, nor future" (57). Although the materials used in Huma Bhabha work can allude to trauma and decay they can also "connote reuse and re-birth through creative process" (57). This feature of Huma Bhabha's work I consider the meeting point of our practices. Creating new histories for our practices and ourselves is what people who left their land do, according to Lucy Lippard (The Lure of the Local, 66).
Bhabha's ink paintings over photographic prints are also large-scale, immersive.
The following theory, though supported by some observation but still somewhat cautiously applied by me, comes from Lucy Lippard as well: "Despite the fragmented configuration of all our centers, common ground among ethnicities can be offered by geography" (63). What I draw from this statement is an observation that quite often displaced artists turn to the land/representation of the land/ re-mapping of it for posing questions and looking for answers. Almost literally working through our own vision of the land in order to build new contexts.  
2
Anselm Kiefer,
Aperiatur Terra et Germinet Salvatorem
2005-2006
110 1/4 x 299 3/16 in. (280 x 760 cm)
Oil, acrylic, emulsion and shellac on canvas
Land as a re-current theme in paintings of Anselm Kiefer, began to emerge in 1974. Often those were specific German landscapes that are broad cultivated plains. However, these were not pantheistic tributes to a bountiful nature, but were dark, tortured fields suggestive of scorched earth after some apocalyptic battle. One of his favorite techniques is to pour a blob of melted lead onto an already ashen canvas. Kiefer is a self-conscious, "deliberately "German" artist" (Ronald Goetz). As such he is constantly engaged in an on-going dialogue with his heritage.
While there are sometimes figurative elements incorporated into paintings and those paintings often start as (or on) a photograph – they grow into prolonged dialogues or collaborations of the painter and the painting and grow into vast abstracted creations. Often his paintings look like they have been 'lived in', 'suffered in' or 'fought in'.The painter often makes use of lines or written words and found objects in his work. There is also a tendency to use a recurrent object in paintings.
 Anselm Kiefer
The Red Sea
1984-85
1133cm x 732cm
Oil, acrylic, emulsion and shellac on canvas
What ties this artist's work to my own is, in my opinion, his persistency in asking questions to the representation of land, or abstracted images of land and through land. He sees himself as belonging to the land or the concept of it – through which he investigates his heritage and history. I sometimes use the coined term "forenzic" – combining 'forensic' and 'frenzy' – to describe the physical evidence of the bodily presence in my paintings. While I would not attempt to apply this term to the paintings of Anselm Kiefer, they are often quite visceral, have accentuated or exaggerated physicality, and are deliberately immersive.
 3.
Julie Mehretu
Middle Grey
2007-2009
10′x14′
ink and acrylic on canvas
Julie Mehretu creates her elaborate semi-abstractions through combining architectural imagery with her personal language of signs and symbols. Formal and conceptual concerns are simultaneously addressed in her large scale compositions where geometric and organic-looking elements are thrown together for depicting public spaces, construction and re-construction sites, and city maps. Mehretu admits she is interested in the history and process of "ruination". She often works with city construction maps for tracing this process. Based in Germany she has access to areas still bearing traces of destruction of the World War II. She follows those places ruination and re-construction in her paintings, layering histories, layering her personal markings, thus inscribing her own narrative into the places.
Her paintings are said to blur the line between figuration and abstraction while constantly referencing the world around us.
Julie Mehretu is an artist "on the hyphen" – an Ethiopian-American, she was born in Ethiopia, raised in the United States and educated in Senegal and the US. Right now she divides her time between Germany and New York. Her history of migration reminds me of my own: moving away from one's land often results in "multi-centeredness" as Lucy Lippard has put it in The Lure of the Local. Maps, borders, and belonging could be just few of the issues that displaced or "multi-centered" persons might have in common and address in their art. However inter-connected the world might seem, "beyond borders lies the perilous ground of not-belonging" (Edward Said).
Julie Mehretu creates graphically ambiguous spaces which often preserve the illusionistic space – which might be evident in my practice as well.
Works Cited:
Goetz, Ronald. "Anselm Kiefer: Art as Atonement",
 http://www.religion-online.org/showarticle.asp?title=941
2.  Lippard, Lucy. The Lure of the Local: Senses of Place in a Multicentered   
    Society. New York: New York Press, 1997. Print.
3.  "Julie Mehretu: Drawing into Painting", 2004,     http://www.walkerart.org/archive/2/AF7361E991C363206165.htm
4. Said, Edward. "The Mind of Winter- Reflections on Life in Exile", Landscape and    Power, 1994. W.J.T. Mitchell ed. Chicago and London: The University of Chicago Press, 2002. Print.
 5. Zuckeramn Jacobson, Heidi. "Hopeful Disasters: the Drawn-on Terrain of Huma Bhabha", Modern Painters, Dec 2011/ Jan 2012/ ARTINFO.COM
 ART CHICAGO: MFA Candidates of Chicago Exhibition
 Eager to see what other graduate students are doing I travelled to Chicago for their Next and MFA Candidates First Year exhibition. I also visited MFAs gradshow there. The trip was the most informative, and a great learning experience for me. I was amazed by the diversity of subjects, approaches and media explored by the students and graduates.
Some of the stronger experiences I decided to store on this page – for further reference:
1.  
2.
 CFA 2011, by Erin Washington, raspberries, bluberries and saliva on canvas
3. Kano Joo Lee, 4 paintings, 2011:
4.
Out of Motion, 2011, Amber Renaye Thomas
5.
Felt, 2011
 Felt, 2011
6.
Constellation, 2011, collage, by Antonila Gurkovska
 7.
Stapled, 2011
8. 4 Paintings by Carli Silverman
Summer, 2011
A Girl on a Bike, 2011
A Lady with Her Dog, 2011
 In the Park, 2011
8.
 Floating Traces, 2011, weaving, rope, by Jae Young Kim
Floating Traces, 2011
Meet: Robert Whitman.
Passport, 2011, part of the performance by Robert Whitman
 Io, 2007. Robert Whitman
Ganymede, 2006. Robert Whitman
Robert Whitman's pieces often "verge on alchemy" according to Liz Kotz and her latest article on Whitman's work in Artforum. What sets him apart from many other artists who embraced technology for producing spectacles however, is that media technologies for Whitman has always been in service of something "at once more grounded and more dreamlike" (193). Whitman uses technological devices to layer different times and places, "exploring and experiential world that is always occuring both here and somewhere else" (193).
Since layering times and places (or referencing them) is the focus of my work, I decided to study Whitman's findings more closely. Whitman is fascinated by events that can never be captured in their entireity – and only layers of multiple experiences produce the full picture. He goes beyond spatiality when he says he is thinking about making a piece that would happen in two places at the same time. In situ performance that is actually happens in more than one site to me references the idea of "landscape in transit" or "landscape as process rather than a place" in our predominantly unmappable world.
Whitman has been experimenting with the shifts in temporality and spatiality for several decades already. His new work, Passport, is the latest exploration of this spatial dispersion and recombination. In this piece Whitman included several performances at different locations and live feed from "the other side" of Hudson River. Liz Kotz says the piece will "generate the sense that the performance extends into the ebb and flow of events that occur around us all the time". The artist himself says, "That reach of space is what I wanted". In that particular piece Whitman wanted to direct people's attention to the other side of the river while the burning boat is being paddled along. That in his opinion, would create "an expanded horizon of space that people are drawn into" (194).
Combining events or actions that couldn't possibly occur on the same site and transmitting images of the occasion to where they are not happening is a serious efort in shifting spatiality and temporality. Everyone these days has been exposed to the figuratively perceived phenomenon of this to some extent: tsunami in Japan was imagined and re-lived in Red Deer; images and sounds of Egypt's uprising filled the homes in Vancouver. Expanding the horizons of outreach for any events, including artistic performances is recent, urgent and overwhelming feature of this time. Nobody is "Other"; "cultural conditioning only goes that far… We all have much more in common than we might have thought" (Ken Lum, lecture at Center A, 09/2010, Vancouver). 
I would like to summarize the most crucial points Robert Whitman is making with this work here, the way they correspond to my research in theory and in practice:
1. Exploring the shifts in temporality, spatiality, and subjectivity that imaging and communications techniques bring in daily life.
2. Layering different times and places, exploring an experiential world that is always occurring both here and somewhere else.
3. Exploring spatial dispersion and re-combination.
4. Incorporating language in the pieces, where the voice comes fron another place.
5. Expanding horizon, drawing people's attention into it.
6. Exploring subjectivity: no two people have the same experience. (And only combined in their multiplicity they create a more adequate picture of the event).
 Works Cited:
1. Kotz, Liz. "1000 words: Robert Whitman Talks about Passport", Artforum, April 2011
2. Ziady DeLue, Rachael, Elkins, James, eds. Landscape Theory. New York: Routledge, 2010. Print.
Prague.  Meet: Martin Mainer.
The Wheel of Fame, 2007-2009, acrylic on canvas, 200cm x 320cm.
Overhead, 2010, acrylic on canvas, 260cmx220cm.
Martin Mainer is a Professor at Brno Art Academy; his paintings, drawings and sculptures (reliefs mostly) are well-known around Europe. His large-scale paintings often start with a print and then evolve into paintings  – just as my own. His appear more 'orderly' or more controlled (arranged by either repeated imprint or central tie at the intitial stage). There is this presence of rhythm strongly felt in Mainer's pieces – it is determined by the distance or repetition of breaks between his vertical 'columns' or radiating rays of images, arranged like beads on strings.  However, the imagery that 'grows' on these bones is fantastic, fairy-tale engaging, absorbing.  
Jean Paul Riopelle's Show in Calgary
Jean Paul Riopelle is an artist to study for me for various reasons. A painter, a sculptor and a beautiful drawer, Riopelle used to literally create "immersive environments" in his foundary and his studio which gradually became crowded with sculptured creatures and paintings that completely overtook his studio in Ile-aux-Grues Archipelago in the St. Lawrence River. He used to transform found objects (mostly found in his studio – like brooms) into creatures, into sculptures, into art. Artists who shared studio with him remember that "…he would take a "stolen" object as his framework, using as the source of both the form and the evolving subject of the work. These purloined items would disappear completely under layers of clay. The old shovel from the coal stove beacame Hibou-pelle, a  crucible ended up as Femme-hibou, a three-legged stool topped with a sieve emerged as Hibou A, a stuffed dog turned into Isabelle. And a bottle-rack, inhabited by thousends of owls, was reborn as La Tour." ( Yesult Riopelle, Gilles Daigneault. Riopelle. Memoires D'Ateliers. 2010, Montreal)  The place finally got so cluttered that the artist, feeling cramped, took over the abandoned courtyard next door. Before long a monumental fountain began to take shape. Figures filled the yard, arranged in a team-game formation.
Considering Riopelle's modus operandi I feel connection to his work as, partially, a 'process painter' – the shapes and images I begin my work with often tell me how to proceed, then evolve into images and creatures of their own. His tendency to create large scale paintings resonates with my own practice. His imagery both in his paintings-drawings and scultures recalls the world of nature, poeticezes the surroundings, the nature, comments of the environmental and its ties to humans.     
SPACE AS MEDIUM
#1 Meet: Katharina Grosse
The German artist Katharina Grosse is an internationally renowned representative of the first kind of practice. Two main threads run through her art practice: one is her large paintings and the other is her installations (room and outside urban spaces). The room installations mix painterly and architectural elements. She spray-paints the exhibition space itself, including the floor, the ceiling, walls and furniture at enormous scale. This way she achieves not only transforming of the gallery space into a three-dimensional painting, but also "forcing" a drifting point of view on the spectator.
"The drifting point of view, the transformation of the support meaning through painting (italics added), the arbitrariness of the context, size and shifts within the work's structure and the temporal and performative quality of it…" ("The Poise of the Head und Die Anderen Folgen", Katharina Grosse, 2010) are the most obvious outcomes of the artist's work and effects it produces.
Grosse's large-scale paintings surround and envelop the viewer; they make viewers feel as if they stand inside of them.
The two images that I have chosen for this presentation are: a room installations: Double Floor, 2004 and her latest exhibition "Shadowbox" – in a link to the video.
http://vernissage.tv/blog/2009/04/14/katharina-grosse-shadowbox-temporare-kunsthalle-berlin-interview/
Method: Painting large supports or spaces with bright colors spray-paint at a large scale forcing transformation of the usual perception of the room or support. Installations often include soil, furniture and stretched and spray-painted canvases on the walls and on the floor, spray-painted together with the whole space and after sometimes turned or shifted in space to achieve more 'disorientation' or versatility.
Methodology: Turning spaces into seamless three-dimensional paintings; creating new environments defying the traditional perception of space. Welcoming diverse individual readings of the created environments via forcing the spectators move through painting and adopting a unique "drifting point of view".
In Shadowbox exhibition Katharina Grosse takes the concept to the next level, inviting her spectators literally move through and around paintings which are reminiscent of traditional painting support – thus commenting on the art history and tradition and the change of vantage point of viewing art through history.
Her inclusions of furniture (beds or book shelves as in Double Floor) and everyday objects are allowing her audience to make a link to domestic space – stressing the inhabitability of her painted creations. Soil inclusions relate to the earth, the cradle, the source, as well as the primary source of painting – the source of pigments, blending art and nature in her installation.
UNEMBARRASSED PRESENCE OF NATURE
#2 Meet: Bob Nugent
"Abstract romantic" as Donald Kuspit christened him in his article about the artist's works on paper, Bob Nugent is one of the leading Californian artists. Kuspit asks what artists can do in the modern situation of uncontrolled use and abuse of nature – "the massive exploitation of nature, and the indifference that attends its ruin?" He answers that Bob Nugent's works on paper offer an "elegant solution: preserve nature in aesthetic fragments – preserve not the appearance of nature … but the sensations nature arouses, aesthetically distilled into elated energy." Art historically speaking, Nugent's work offers a kind of epitomizing summary of the history of gestural abstraction. They are combinations of what Kandinsky called "impression and improvisations" – "lively responses to nature's aliveness and pure abstractions responsive to the qualities of the medium" (D.K.) Bob Nugent made several trips to the Amazon River during which he studied the environment and made series of drawings and paintings inspired by nature. He also travelled to Mexico which resulted in several "desert" series.
Tolhido, 2001
Method: Combining painting and drawing techniques on paper, canvas (linen), or board. Incorporating natural watermarks on paper and canvas into the image which often includes ink and charcoal drawings. Preserving the illusionistic space – his work is never perceived as 'flat' – which ties it with representational or surrealistic way of painting rather than with pure abstraction.
Methodology: Underlying message of reality is always present in Nugent's art. Through expressive means he arrives at a strong statement on the environmental issues; fragility of the surroundings and art-historically traditional memento mori which is different from romanticism's view of nature. Self-reflexive nature of Nugent's active stand environmentalist's creative work is acutely postmodernist; the general mood of his paintings is wistful and often dramatic. The images are almost recognizable but leave room for individual interpretation which makes them interactive. (e.g. Jerusalem or a place in West Van)
PAST HAJJ – FUTURE EXHIBITION
#3 Meet: Allen Ball
A Canadian visual artist, trained as a painter in London, went on a hajj to Egypt for a voluntary service in the Canadian Peacekeeping Forces in the Middle East. He was placed at the North camp in the Sinai Peninsula. While on duty Allen made several photographs. Upon his return he decided to use two images for an unusual exhibit:
Image #1: A view of a barrack wall with a door with several notes on it, pinned to the surface in the shape of a cross. A board on the wall of the barrack with colourful stripes illustrating the "levels of danger" e.g. "elevated", "severe", etc. Updated every day so that the personnel knows in what kind of situation they are. Bicycle parking stalls are on the left and a smoking spot is on the right from the door.
Image #2: An open area in the Sinai desert observed from the camp tower. In the lower left corner there is a parked Egyptian troop transport vehicle; in the upper right – an Egyptian officer behind a rock, watching something in the desert through his binoculars. (As the artist explains, the officer was watching a group of Bedouins moving in the desert.)
Method: The images taken in Sinai are blown up in size to fit the glass exterior of a gallery (approx. 14'x20') on a transparent film and glued to the outside walls with the front door in the center of it. In image #1 the bicycle parking stand is right by the actual bicycle stand outside the gallery, the door of the gallery has the image of "danger indication" stripes. Image #2 – the door to the gallery opens "into" the Egyptian troop transporter vehicle. The image of the Egyptian officer is propped by the slope of the glass roof of the gallery.
Methodology: Importing and trans-placing images of global politics and making them into life-size reality in the peaceful environment of North American urban spaces makes the work almost temporally simultaneous and spatially synchronous with the actual events thousands of miles away. The artist makes a strong comment on global politics and its effects that are never too far away. The door allows the viewers actually move through the image – either into the signs of danger, or into the troop transport vehicle. Blowing up the images in size – not only to match the size of the exterior but also to bring the public's attention to the acute importance of the issue.
PROJECTED HOPE
#4 Meet: Matias Duville
An Argentine artist, trained in advertising and art at Superior School of Visual Arts. In 2008 Matias had a dream about Alaska. He had never traveled to Alaska, and had never really seen images or photographs taken there. Alaskan terrain and conditions were not even vaguely familiar to him. During the next year the artist virtually locked himself in the studio producing hundreds of drawings of his 'projected' images of Alaska – avoiding obtaining the real images or information about the distant state. As Modern Painters magazine writes about him ( Brett Littman's) , "throughout his career the artist has used imaginary geographies and juxtapositions of irreconcilable elements – a swimming pool in the ocean, an electric-organ keyboard at the top of the waterfall – as levers to pry open reality. His understanding of place and time is internal, personal, and variable – closer to a hypnotic state than to full-blown consciousness.
Method: Drawing images from imagination using drawing media (pastel, chalk and charcoal) on paper and plywood. Natural texture of plywood and some paper types pre-determines the character of the mark. The prevailing colors are black and white; with separate bursts of color. The artist is juxtaposing elements known with elements unseen and never experienced. The outlines of objects snap in and out of focus, as if seen through a fog or mist. At the second stage of the project Duville travels to Alaska and makes observation drawings (only seen through the window of his RV); at the third – back in Buenos Aires – he produces 'mixed' drawings of real Alaska and his fantasies about it.
Methodology: Matias Duville's drawings of constructed landscapes of his "Future Memories: Mental Trip" (the title of the series) project phenomenon and functions of memory onto the unknown – the fog effects; selective nature of memory. Known for centuries human search for the unknown land – like sea voyages to India where the images the explorers had were mostly fictional, far from reality – those were images of projected hope. Constructing the unknown world – then de-constructing it with the interference of reality, and constructing multilayered worlds at the third stage – contains a comment on subjectivity and individual perception of multi-layered reality of contemporary world and art.
Summary: The work of these four artists is relevant to my thesis research project in various ways. Katharina Grosse's paintings and installations relate to the scale and constructed environments of my paintscapes. The "drifting" vantage point is perceived by me in both its literal and metaphorical way: drifting in time and space as well as moving through a painting which I am considering incorporating in my work. Her use of brilliant colour to convey a message on an emotional level is something I have been studying as well.
Bob Nugent's "unlikely realism" and "romantic abstraction" rooted in nature and natural environment is, as I feel it, exactly the field I am feeling my path through. Combining impressions with improvisations is my modus operandi in painting. His subtle reminder of loss or possibility of it is present in my painted geographies. I also admire his fantastic touch in preserving the watermark in his work. "Distilling art into energy" – is something I have been trying through the use of dramatic colors.
Allen Ball's transposition of desert spaces heated by Middle-Eastern reality onto a Vancouver gallery is geographically impossibly close to my own transcontinental search; his moving through image is something I am researching right now.
Matias Duville's projected hope in "Future Memories" symbolizes my own search into the unknown territory and resonates with my passion of creating coded environments and unseen landscapes.
Bibliography:
"The Poise of the Head und die andren folgen", Contemporary Painting in Context, Museum Tusculanum Press, University of Copenhagen 2010
"I Wish I Had a Big Studio in the Center of the City", Lars Müller Publishers, 2009
"Katharina Grosse. The Flower Show. Skrow No Repap", Frac Auvergne, 2007-2008
Bob Nugent, the Triton Museum of Art, Santa Clara, California, 2007
Modern Painters Magazine, summer 2010/artinfo.com